Brief Overview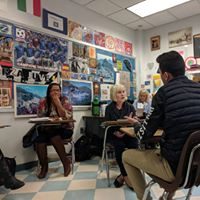 The American Council on the Teaching of Foreign Languages (ACTFL) is dedicated to the improvement and expansion of the teaching and learning of all languages at all levels of instruction. ACTFL is an individual membership organization of more than 12,500 language educators and administrators from elementary through graduate education, as well as government and industry.
Since its founding (in 1967), ACTFL has become synonymous with innovation, quality, and reliability in meeting the changing needs of language educators and their students. From the development of Proficiency Guidelines, to its leadership role in the creation of national standards, ACTFL focuses on issues that are critical to the growth of both the profession and the individual teacher.
MISSION STATEMENT (ADOPTED NOVEMBER 2004)
Providing vision, leadership and support for quality teaching and learning of languages.
VISION STATEMENT (ADOPTED MAY 2005)
Believing that language and communication are at the heart of the human experience, that the U.S. must nurture and develop indigenous, immigrant, and world language resources, and that the U.S. must educate students to be linguistically and culturally prepared to function as world citizens, ACTFL is uniquely positioned to lead this endeavor by