Career Readiness: Salary Negotiation Skills for Women –
Awhile back The New York Times had an article about workshops at the College of Mount St. Vincent in the Bronx — and their goal: to help college-aged women learn salary negotiation skills.
The Wage Project  an organization aiming to closing the gender pay gap, along with the American Association of University Women, empowering women since 1881, are hosting negotiation workshops–called Smart Start at colleges. I wish this program was around when I was in college.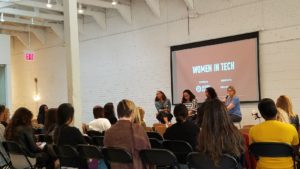 Every participant in these workshops learns the key aspects in salary negotiation:
1. The personal consequences of the gender wage gap to a college graduate: that she may lose $1.2 million loss over her working lifetime if she does not take action.
2. The resources for benchmarking the salary and benefits for the particular job she wants when she graduates from college. She will learn about job titles, their functions and salary ranges, the impact of market realities on salaries; and how to compare her skills and accomplishments to job requirements and the job market where she wants to work in order to target a realistic salary.
3. The basic elements of salary negotiation: how to aim high and be realistic; language useful in salary negotiations; and the tactics and strategies to achieve her worth in her first job after graduation.
4. The "bare bones" budget she will need to pay rent, buy groceries, repay student loans, and other basic expenses.
How Can I Get Involved in a $tart$mart Workshop?
Working with a campus contact person, The WAGE Project conducts $tart$mart workshops on campuses throughout the United States specifically tailored to that campus and the students who will be attending the workshop.
In the last two academic years, $tart$mart workshops have been conducted on over one hundred campuses.
If you are interested in participating in a $tart$mart workshop, or if you want to explore how to get The WAGE Project to conduct a $tart$mart workshop on your campus, contact Annie Houle at ahoule@wageproject.org
Look for a workshop on your campus.
Alabama
Huntsville
University of Alabama Huntsville*
Arkansas
Fayetteville
University of Arkansas*
California
Santa Monica
Santa Monica College
California
Mission Viejo
Saddleback College*
Connecticut
New Britain
Central Connecticut State University*
Delaware
Wilmington
Goldey-Beacom College*
Indiana
Valparaiso
Valparaiso University*
Iowa
Des Moines
Grand View University*
Kansas
Topeka
Washburn University*
Louisiana
New Orleans
Newcomb College Institute*
Michigan
Detroit
Wayne County Community College Northwest Campus
,
SPONSORED BY LUNA
Michigan
Dearborn
Henry Ford College
5101 Evergreen Road, Berry Auditorium, Main Building L,
SPONSORED BY LUNA
New Jersey
Princeton
Institute for Advanced Study
New York
New York
New York Institute of Technology,
16 W 61st St., 11th Floor Auditorium
North Carolina
Asheville
University of North Carolina, Asheville*
North Carolina
Wilmington
University of North Carolina, Wilmington
North Carolina
Wilmington
University of North Carolina Wilmington
Ohio
Athens
Ohio University*
Ohio
Bowling Green
Bowling Green State University
Ohio
Cincinnati
Xavier University
Conaton Learning Commons, 3800 Victory Pkwy, Room 413,
SPONSORED BY LUNA
Pennsylvania
Sellingsgrove
Susquehanna University
Tennessee
Maryville
Maryville College*
Texas
Tyler
University of Texas, Tyler*
Texas
Tyler
University of Texas Tyler*
Can't find it? E-mail salary@aauw.org and they will connect you with the organizer.