Brief Overview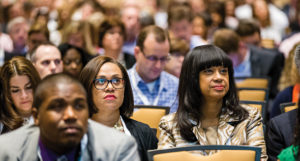 Vision: Managed care pharmacy – improving health care for all.  
Mission: To empower its members to serve society by using sound medication management principles and strategies to improve health care for all. 
The Academy of Managed Care Pharmacy (AMCP) is the nation's leading professional association dedicated to increasing patient access to affordable medicines, improving health outcomes and ensuring the wise use of health care dollars. Through evidence- and value-based strategies and practices, the Academy's 8,000 pharmacists, physicians, nurses and other practitioners manage medication therapies for the 270 million Americans served by health plans, pharmacy benefit management firms, emerging care models and government.
AMCP serves its members in many ways, including through live national conferences, online learning programs, research in peer-reviewed literature and advocacy. Each is designed with the goal of advancing professional knowledge, improving the design and delivery of pharmacy benefits, and ultimately, patient satisfaction and health outcomes.
We invite you to join us if you are involved in the practice of managed care pharmacy. Explore our website and learn more about what we do. Thank you.