Typical Education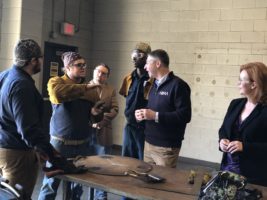 The career needs of the boiler industry are common to the needs of the manufacturing industry; however, the boiler industry does have some additional needs that can fall outside the normal areas.
The boiler industry needs welders, especially "Code Welders" that can be used to build pressure vessels under the requirements of the American Society of Mechanical Engineers (ASME).  This industry also needs fabrication and assembly workers.  In many cases these workers are running automated (CNC) equipment rather than the manual tasks.  Companies within the boiler industry often train workers to perform these jobs, but prior skills and experience is still needed.
In the company offices within the industry, there are needs for all the normal positions like sales, marketing, accounting, HR and management, plus a large need for engineering and related technical support like drafting and technicians.  The controls used in this industry have become more complex and tailored to specific customers, requiring more engineering and technical support.  Mechanical design is a basic part of our business, which requires a variety of skill levels to support the business.  These jobs are filled by individuals with associate degrees as well as bachelor's degrees and higher-level degrees.
The boiler industry also has a specialized need for combustion expertise, partly to improve boiler efficiency and partly to meet ever changing emission requirements.  Some colleges have started to offer programs and degrees in this area.  Usually a MS or PhD is required.
There has always been a shortage of people in the field service area.  The skill requirements generally fall into two areas, controls (electronic and flow control) and mechanical repair.  These individuals often have an associate degree in a related field or a fair amount of experience.  These positions are well paid, but require someone who can work on their own.
Traditionally in the boiler industry, it is hard to find technical skills and there is a general shortage of these skills at all levels.  Most smaller companies will train from within, eating the cost of developing and training individuals.  Larger companies train from within this as well, but they will also pay the premium to hire qualified individuals.