Brief Overview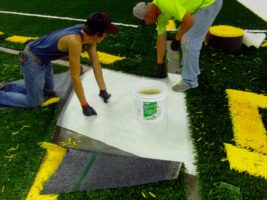 The American Sports Builders Association (ASBA), a non-profit trade association comprised of builders, designers and suppliers for sports facilities, exists to promote the highest standards of design, construction and maintenance by:
*Leading in the development and dissemination of current and accurate technical information; and
*Promoting the interests of builders of sports facilities of the type constructed by its members; and
*Providing a forum to gather and exchange ideas and information to improve sports facility construction and maintenance.
The membership of the American Sports Builders Association is guided by honesty and integrity in our words and actions.
Headquartered in Maryland, the ASBA works to raise professional standards and to insure that consumers receive services of the highest quality. As part of its work to achieve this goal, the association sponsors a certification program that permits experienced tennis court, running track and field builders to demonstrate their competency by completing an examination on all areas of construction. In addition, ASBA offers an awards program to recognize excellence in design, construction and renovation.
Another priority is education. The Association recognizes that the well-informed consumer is more likely to make appropriate decisions. Therefore, ASBA publishes online Buyer's Guides for track, tennis court and field construction, which provide information on the process of selecting a site, choosing a contractor, identifying a surface and so forth. Also available online at www.sportsbuilders.org are more detailed Construction Guidelines and a searchable database of members. For those who prefer printed material, the Association offers a directory of members at no charge; the directory allows consumers to locate design professionals, builders and material suppliers, as well as consultants, trade publications and other industry resources.