Educational Opportunities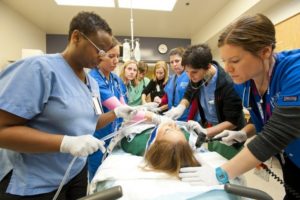 BCEN® is THE benchmark for nursing certifications across the emergency spectrum.
BCEN currently offers five specialty certifications:
Certified Emergency Nurse (CEN®)
The CEN is for nurses in an emergency department setting. The exam specifications cover: cardiovascular emergencies; gastrointestinal emergencies; genitourinary, gynecology, and obstetrical emergencies; maxillofacial and ocular emergencies; neurological emergencies; psycho/social emergencies; respiratory emergencies; environment and toxicology emergencies; shock; medical emergencies and communicable diseases; and professional issues.
Certified Flight Registered Nurse (CFRN®)
The CFRN is for flight nurses. The exam specifications cover: general principles of practice; patient care principles; trauma; medical problems; environmental emergencies and toxicology; obstetrical patients; and patient care issues and management.
Certified Pediatric Emergency Nurse (CPEN®)
The CPEN is for any emergency nurse who treats pediatric patients in an emergency department (not just pediatric-specific emergency departments). The exam specifications cover: triage process; assessment; technical skills; medical conditions; surgical and trauma emergencies and procedural sedation; and special considerations.