Brief Overview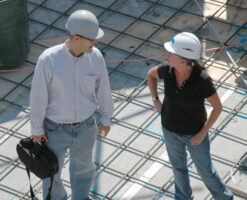 Founded in 1924, the Concrete Reinforcing Steel Institute (CRSI) is a technical institute and an ANSI-accredited Standards Developing Organization (SDO) that stands as the authoritative resource for information related to steel reinforced concrete construction. Among the Nation's oldest trade associations, CRSI authors many industry-trusted technical publications, standards documents, design aids, reference materials and educational opportunities to advance and standardize the reinforced concrete construction industry.
CRSI's members represent over 80% of the U.S. manufacturers, fabricators and placers of steel reinforcing bar and related products with over 600 locations in 49 states, and with over 15,000 employees. Members produce, fabricate and install approximately 9 million ton of reinforcing steel per year using scrap steel in efficient manufacturing operations. It is estimated that the industry impacts over 75,000 people in steel transportation and placement in North America.
Our professional members (architects, engineers, contractors) are involved in the research, design, and construction of steel reinforced concrete.
CRSI also has a broad Region Manager network that supports both members and industry professionals and creates awareness among the design/construction community through outreach activities.