Educational Opportunities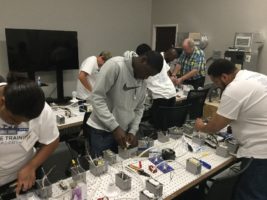 GAAF has streamlined operation efficiencies, which has allowed GAAF to expand its programs.
Areas of concentration include:
High Schools
GAAF will work with high schools that have related pathways to promote Residential Property Management. Examples include providing teaching materials, subject matter experts, and case studies. 
Career Academies
Within the Career Academy Network, GAAF will participate in career expos and guest lectures to provide advisory support, job shadowing opportunities, work-based learning, apprenticeships, and part-time employment.
Technical Colleges
Target areas include career academies and technical colleges in proximity to GAA chapter associations, including Chattahoochee Tech, Georgia Piedmont Tech, Athens Tech, Savannah Tech, and Columbus Tech.
Four Year Colleges and Universities
GAAF will support the University of Georgia, Georgia Tech, and Kennesaw State University by participating in teaching courses, providing guest lectures, hosting career fairs and special events.
Workforce Development Programs
GAAF will partner with workforce organizations to promote career opportunities and facilitate the Service Training Academy multiple times a year, to provide our industry with qualified maintenance technicians. This program is completely FREE for students to attend.